Because IMEX is a company that constantly invests in the development of new solutions and products. Because IMEX creates bespoke products according to the exact needs of its clients. Because IMEX guarantees value for money and excellent customer service for all. Our aim is to keep growing. Let's do it together.
Production without borders.
IMEX is committed to innovation, searching for new solutions and techniques while striving to embed an ethos of creativity into our production operations. We aim to be flexible as we industrialise a product – wood – whose roots are inextricably linked to traditional craftsmanship. While staying true to these values. IMEX has been able to establish and maintain a leading standing in the biggest global markets, where we sell 95% of everything we produce. IMEX exports its products to over 24 countries around the world, introducing more markets to its quintessential Italian quality. These countries have fallen in love with the efficiency, precision, creativity and burning passion which IMEX channels into its work on a daily basis.
Our numbers, in the last 10 years:
The secret of our company's success?
Our ability to change,
adapt and grow.
We've been constantly evolving
since

1940

.
The secret of our company's success?
Our ability to change,
adapt and grow.
We've been constantly evolving
since

1940

.
Traditions as solid as wood.
Established in 1940, IMEX S.r.l. initially produced furniture, doors and windows. However, in 1975, current president Mauro Ghidini decided that the company should specialise in the field of frame mouldings. Since then, IMEX has grown into a purveyor of excellence in the woodworking and frame moulding production industry.
Over the years, more and more members of the Ghidini family have entered the company. Together, the family has expertly married cutting-edge technology with the quality, precision, attention to detail and customer service that only a family-run business can offer. IMEX's ever-expanding production operation is the perfect illustration of how successful the model is.
IMEX's operative reach has broadened over the years, with the company now processing solid wood and MDF as well as creating, in the last years, a huge range of products destined for large-scale distribution and former partner company Giardina Finishing, specialized in the production of machinery used for applying finishes to materials.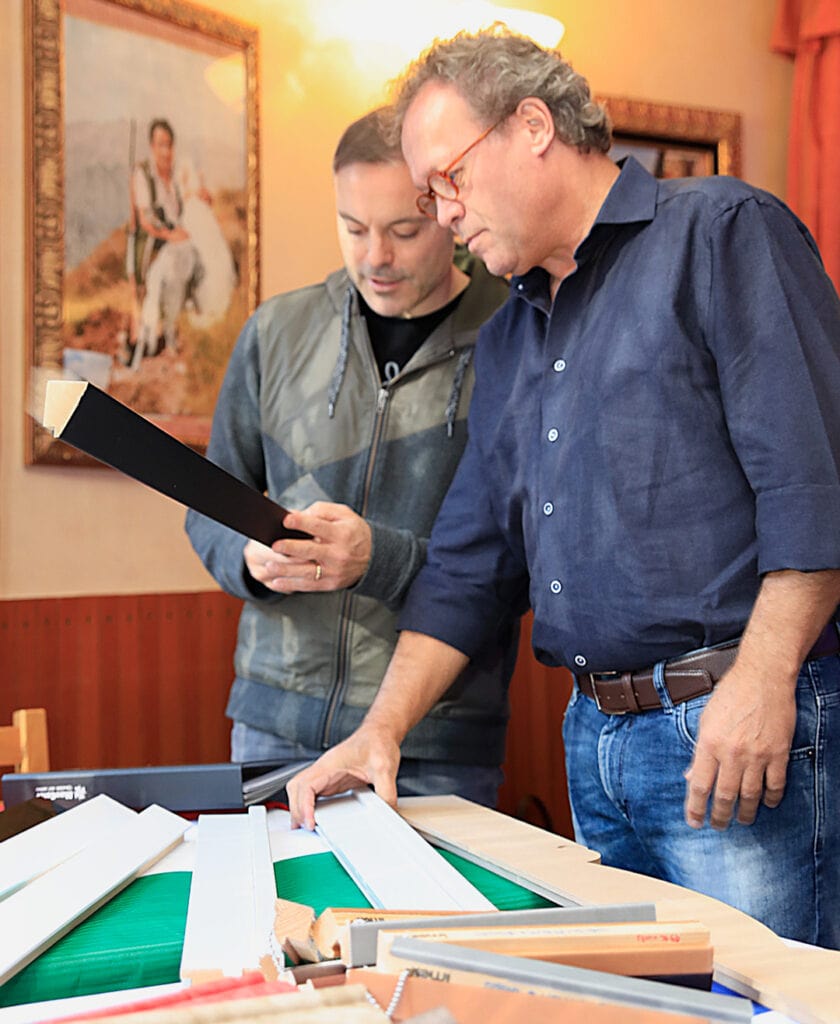 The team
Over the years, IMEX has engaged in relationships with many people of quality and experience; continuous confront and shared choices made it possible to undertake important paths, which have required a great deal of effort, but which have always paid off.
For our company, "work relationship" mean sharing goals and ways to go, being active part of the change, and enhancing singularities to bring out each one's points of view.
This is what gives value to everyone's work.
Deep roots in the local area,
at one with the mountains.
IMEX's offices and production facilities are located in Lenna, in the province of Bergamo. The mountains surrounding the area seem to convey their natural strength into everything we produce, while our commitment to productivity, hard work and continual improvement do the rest.
These same values are at the very heart of our company philosophy.
Our territory, just a few clicks away.
The events periodically organized in our area, useful addresses, local events that you can't miss: in this page you will find everything you can do, and you should know, about and around Bergamo.